Wanderings in Willington Woods: Take a Seat, and Relax
By Robin Braithwaite
There are lots of reasons for visiting Willington Woods, be it walking the dog or wearing out the children (or parents, depending on your point of view). You might be engaging in some sort of running or cycling activity on the paved pathways. Anglers, canoeists and boat operators enjoy the river, and other folk visit the woods for the flora and fauna and to bask in the peace and quiet (A421 permitting!). The woods are maintained by a small team of volunteers and the occasional contractor. It's a perpetual project of continuous improvement for the benefit of the ecology and the visitors alike. The volunteers are managed and directed by staff at the Marston Vale Forest Centre. Occasionally, the volunteers perform tasks which take them away from their usual core activities; recently, the team was tasked with clearing a section of river bank and installing a new bench nearby (the woods are a great place to spend an afternoon but it is always nice to have a spot where you can take the weight off your feet, have a break and enjoy a view of the river). Much of the bank was cleared by a team from the Ordnance Survey, who had a community engagement day in the woods (more about this exceptionally successful event another time).
The recently installed bench is special: it is in memory of Connie and Dennis Ashley who were regular visitors to the woods, and I'm told that they particularly enjoyed the stretch between Danish Camp and the Elstow Brook confluence. Sadly, Both Connie and Den have both since passed away but Connie's cousin, David Wood, commissioned the bench and asked if it could be positioned near the river. The bench is beautifully made and is a tribute to a couple who made their mark in the community and, like many others, did great things for their country.
David also provided some of the words and information for this article. Connie Martin (née Wood) was born in Heckmondwike in the West Riding. She came to Bedford in the late thirties, with her family, when her father (David Wood's Uncle Arthur) got a
job as a brick lorry driver. When Connie left school she worked in the fur department of E P Roses (now Debenhams). In 1943, when women were conscripted into war work, Connie joined the Women's Land Army and was stationed at Potton. In a photo taken while she was in the WLA, Connie can be seen seated on the left, in the Bedford and Luton Archives Services "at home flier". The photograph was taken in the lounge of the Potton WLA hostel in January 1943.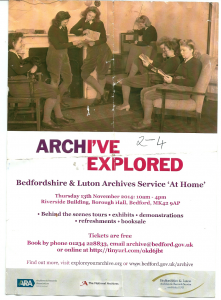 The hostel was a commandeered town house. Connie left the WLA in 1945 and for the rest of her life she suffered from arthritis in her hands. It was believed her arthritis was caused by picking Brussels sprouts in winter. For many years leading up to her retirement Connie worked in reception at County Hall.  Dennis Ashley was born in Kempston, the son of a baker. He went to Bedford Modern School. During WWII he served in the Royal Navy with Peter Scott (the son of Scott of the Antarctic and also famously known as Sir Peter Scott, the ornithologist and conservationist), and took part in the Normandy Landings. He endured many horrors, including dragging the body of his best friend out of the sea on D-Day +3, his 21st birthday. After the war, Den worked as an electrician and finished his working life maintaining the generators at RAF Chicksands. Connie and Den had a happy retirement together, devoting time to their family, horse racing and bird watching. At one time they owned a small motor launch which was moored at the Priory Marina. Willington was one of many destinations: Danish Camp being a particular favourite. The newly installed bench was created by Ed Burnett, in his workshop in Great Barford. The wood is oak and came from Putnoe Wood in Bedford. Ed is a local craftsman and has demonstrated his carving and pole-lathe skills at local events such as Woodworks, etc. The bench is simplicity in its purest form, being made from just a handful of principal components: each component being totally dependent on its neighbour to maintain the structure. I'm told that the original design had butterflies at each side but they were replaced by the grey heron and swan because Connie and Den both loved bird watching so much. As David said,
"I thought it was much better than a grave stone, and I hoped it would give pleasure to passers-by where they could sit and enjoy a view of the river"
Enjoy the woods. The creation of the Forest of Marston Vale is led by the Forest of Marston Vale Trust. If you want to get involved then visit www.marstonvale.org